Description
Attwood Tsunami Aerator Pump 800GPH 12 Volt 4650 T800
Based on the same technology platform as the Tsunami Bilge Pumps. The Tsunami aerator pump and associated installation accessories provide a reliable and versatile live tank pump solution. Water cooled motor housing dissipates heat for extended motor life. High efficiency permanent magnet motor with coil spring loaded, extra long composite brushes and permanently lubricated bearings for longevity. Wiring is tinned and caulked to prevent wicking, water damage and resists corrosion. Live bait tank pump / Live Bait Aerator Pump.
Variable mount design and accessories enables easy installation as a recirculating system, with thru transom or thru hull installation. The mount configuration and high volume capacity of these pumps also sees them utilised on ski/wake boats to literally blast torrents of water ballast in or out, depending on the trim required.
Pumps are not self priming and must be mounted below waterline.
Attwood Tsunami Aerator Pump – T800 12 Volt
Open Flow @13.6V: 50.5 l/m / 800gph
Amp Draw: 2.4
Fuse: 4 amp
a & b Thread: 3/4″ NPT
c: 102 mm
d: 99 mm
e: 76 mm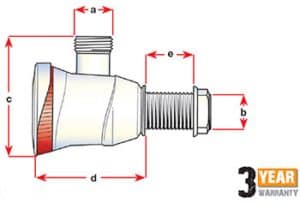 Attwood Tsunami Aerator Installation Guide
N.B. Output specifications are in US gallons per hour. While Attwood aerator pumps have caulked wire, best practice installation is to ensure wiring connections remain above water level.
Attwood's pumps play no "rating games" like competitive pumps. Attwood electric bilge pumps deliver value and performance that's built to last.
Complete Selection
A complete selection of pumps and blowers are available for fishing boats, runabouts, cruisers, yachts, and commercial boats. Attwood bilge pumps and blowers are tested and approved as standard equipment by leading boat manufacturers.
Bilge and Aerator Pumps
The Tsunami Series of cartridge style bilge and aerator pumps are engineered for higher performance in the most service friendly design imaginable. Their cartridge style allows quick and easy replacement without the need to remove hoses or mounting bases.
Automatic Bilge Pumps
All boats over 20′ long with sleeping accommodations (excluding fold-out cockpit seats) should use automatic bilge pump systems. Non-automatic pumps drawing 12-amps or less can easily convert to automatic operation with an Attwood Automatic Float Switch (part number 4201 or 4202). Our Sahara Series automatic pumps are available in 500, 750 and 1100  gph capacity models.
Bilge pumps are designed to exhaust standing water only. They are not intended to prevent rapid accumulation of on-board water due to rough weather, hull damage, and/or other unsafe navigational conditions.
Note: Bilge and aerator pumps must be lower than the source of water for priming.
Measure the diameter of the hose outlet on your electric bilge pump to determine the size pump you need.
Tsunami Aerator Pump
Dim (c) (mm):
102
Dim (d) (mm):
99
Dim (e) (mm):
76
a & b thread NPT:
3/4"
Open flow @13.6V gph:
800