When it comes to boating, it's not all about the speed and excitement. It's also about the journey and having the right gear to make the trip comfortable and safe. This is why a Bimini top is an essential addition to any boat. Bimini tops, also known as sunshades or canopies, are simple yet effective solutions that provide shade and shelter from the elements while on the water. In this blog, we'll explore why Bimini tops are a must-have for boating enthusiasts.
Protection from the Sun
One of the primary benefits of a Bimini top is the protection it offers from the sun. Whether you're cruising on a sunny day or fishing in the midday heat, a Bimini top can provide much-needed shade to protect you from the harmful effects of UV rays. This exposure can be even more intense on the water, as the ocean reflects UV rays rather than absorbing them. Therefore, having a Bimini top is crucial for your skin and boat's protection while enjoying the open waters. Without a Bimini top, you and your boat will be exposed to the potential damage as a result of sun exposure.
Protection from the Rain
A Bimini top also provides shelter from rain, making it a perfect solution for boating in uncertain weather conditions. With a Bimini top in place, you can continue your boating trip without having to worry about getting wet or having to cut your trip short due to rain. Think of it as an adjustable roof over your boat, ready to roll out and provide shelter if the weather takes a sudden turn. Just make sure your Bimini top is properly secured in windy conditions.
Added Comfort
Boating trips can be made longer and more comfortable with a Bimini top. By creating a shaded and sheltered area, you can enjoy your time on the water without worrying about the heat or harsh weather. Moreover, if you're travelling with young children or elderly passengers, a Bimini top can offer added comfort, protection, and peace of mind. Making the Bimini top a great investment for boaters who enjoy taking extended trips.
Versatile and Customisable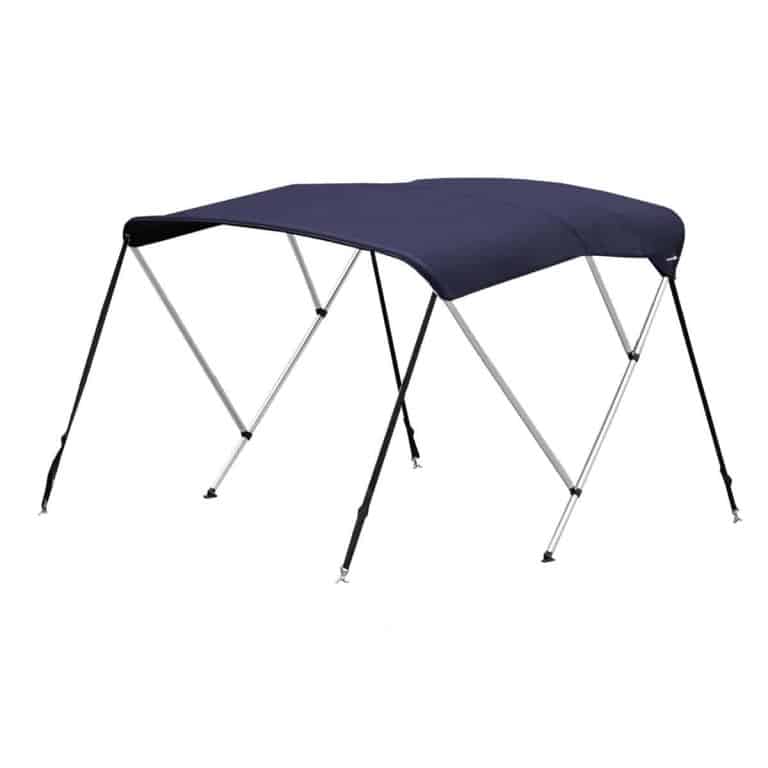 Bimini tops, available in aluminium or stainless steel, offer durability and resistance to the marine environment. Commonly, they come in 2-bow and 3-bow designs, providing stability with support structures over the boat. Sailboat-specific designs accommodate unique layouts and rigging.
With various lengths, widths, and colours, boat owners can choose a custom Bimini top that fits their preferences. Extensions are also available for added coverage and protection from the elements. Some brands also offer replacement cloth options for updating the look without replacing the entire frame.
Bimini tops' practicality shines through as they can be easily folded away, ideal for boats with limited space. Enhancing boating experiences, they provide much-needed shade and comfort for everyone on board.
Easy to Install and Store
A Bimini top is easy to install, set up, and remove, and it can be done with little effort. Moreover, most Bimini tops today are designed for hassle-free storage when you're not using them, making them a perfect addition to any boat. In order to prolong the life of your bimini top, it is important to understand how to store and maintain it.
Tips On Maintaining Your Bimini Top
Bimini tops require regular care and maintenance to ensure their longevity. Make sure to rinse it off frequently with fresh water, wipe down the frame, apply silicone lubricant on all hinges and zippers, inspect the fabric for any cuts or tears, and store your top away properly when not in use. Additionally, when you're on the water keep a lookout for harsh weather conditions that may put stress on your Bimini top so that you can secure it well. With proper maintenance and care, your Bimini top will last for many years.
Finally, make sure to purchase a high-quality bimini top from a reputable retailer like Boat Hut, if you want it to withstand long-term use and harsh weather conditions. This investment is certainly worth it in the long run!
Frequently Asked Questions
Q: How long does a Bimini top last?
A: Generally, a Bimini top will last several years depending on the material used and how often it's used. However, proper maintenance and care of your Bimini top is essential to ensure its longevity.
Q: Is a Bimini top waterproof?
A: Yes, most Bimini tops are made from waterproof materials that protect against rain and light spray from the water.
Q: Can you install a Bimini top yourself?
A: Yes, most new Bimini tops are designed for easy installation and set-up with basic tools. Depending on the model and type, you may need assistance for larger or more complex installations.
Q: Is a Bimini top necessary?
A: A Bimini top is not essential, but it certainly adds to the overall boating experience. A Bimini top can provide protection from the sun and rain while also offering additional shade, comfort, and style. With all these features in mind, a Bimini top can be seen as an investment in your boating enjoyment.
Conclusion:
A Bimini top is a must have addition to your boating equipment, offering shelter and protection from the sun or rain, extended trips, added comfort, and versatility to your water-based adventures. We hope this blog has helped you understand the value of a Bimini top and how it can enhance your boating experience. Be sure to invest in a high-quality Bimini top to get the most out of your boating trips and enjoy a worry-free and comfortable time on the sea.